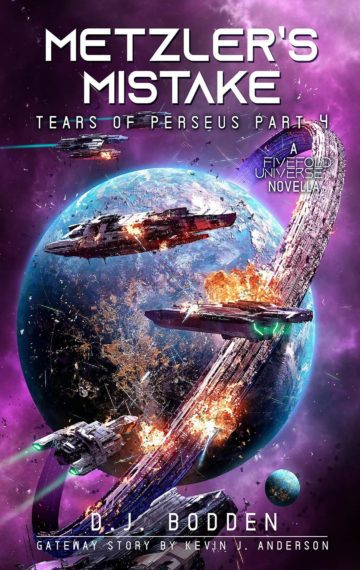 $2.99
Buy Now
Read A Sample
See The Reviews
See The Full Series
Editor:

D.J. Bodden

Available in:

Kindle

Pages:

125

Published:

December 20, 2022
They sent a soldier to force the peace.
He always said war was an extension of diplomacy. When rebels intercepted the wrong political mission, the Federal Parliament of Sol dispatched Joshua "the Butcher" Metzler to put an end to the revolution. To the war-weary admiral, it was one last chance to do it right, to make amends for past mistakes, and to pass the torch to his daughter, Commander Metzler, the captain of one of his ships.
The trap is set. By the end of the day, the rebel fleet will be captured or destroyed because no one can break a rebellion like the Butcher. But with a powerful AI looking over his shoulder and both spies and diplomats meddling with his plans, will Joshua be able to soothe his conscience, or will the inevitable battle forever be known as Metzler's Mistake?
Written by D.J. Bodden, author of The Starborn Heir and creator of the FiveFold Universe, Metzler's Mistake is a story of a war no one wanted to fight, thrilling space combat, and political intrigue at the highest levels.