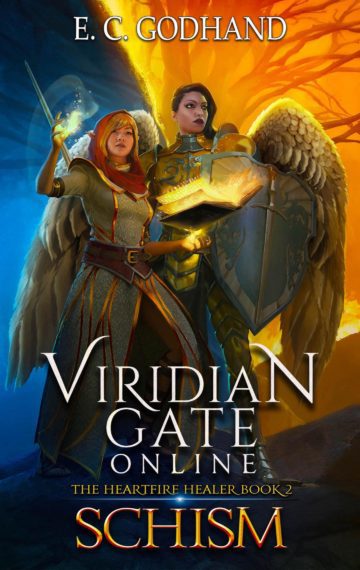 $5.99
Buy Now
Read A Sample
See The Reviews
See The Full Series
Available in:

Kindle, Kindle Unlimited, Print

Pages:

341

Published:

August 17, 2021
Priest or not, Liset is a healer, and she's here to save their ass, not kiss it.
After rescuing a holy relic from Darklings, Liset the Blessed learns no good deed goes unpunished. The Temple of Areste has given her a day and a half to make a choice: be excommunicated for turning in the quest item or excommunicated for stealing it. Either way, she risks losing her hard-earned class as a Priestess of Gaia, and with it, her ability to heal the people of Viridian Gate Online.
But the world has other plans, and her temple is the least of her worries. Between the return of the Darklings, an ancient Hvitalfarian evil, and a brewing civil war in Rowanheath, there's plenty of need for a healer.
As a former physician, she has more tools at her disposal to heal people than magic. Even if she must go to war with her own temple, she won't let her faith be ripped away without a fight. Not when so many people depend on her.