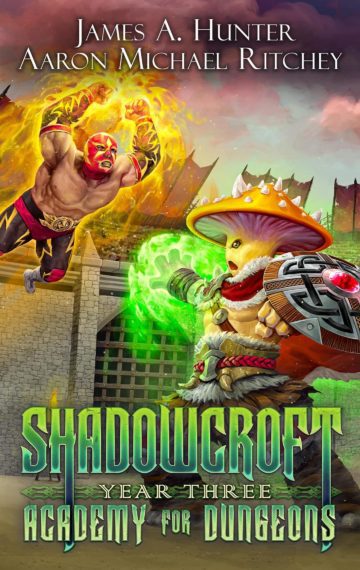 $5.99
Buy Now
Read A Sample
See The Reviews
See The Full Series
Narrator:

Henry Kramer

Available in:

Kindle, Kindle Unlimited, Print

Pages:

595

Duration:

19 hrs and 52 mins

Published:

February 14, 2023
Logan's sophomore year was fine. Destroy an ancient evil. Solve a murder mystery. Tell way too many silverware jokes. No big deal.
His junior year, on the other hand, is shaping up to be the deadliest of them all. Shadowcroft Academy is hosting the Interschool Tournament, and though there is no Goblet, Logan and the Terrible Twelfth are about to find themselves tossed into the Fire.
With epic loot, lucrative sponsorships, and school bragging rights on the line, the tournament is guaranteed to be a bloodbath for all involved. Especially since a mysterious, masked dungeoneer with ties to Earth has set his sights on the tournament participants and is hellbent on wiping them out, no matter the cost.
Good thing the Terrible Twelfth has a bevy of new classes to help them rise to the occasion, including Cruelty Incorporated: The Business of Destruction, Runic Haiku: Utilizing Power Word Syllable Poetry, and the traumatizing Brews, Beers, and Bubbles – Alchemy for Everyone, taught by an oddball professor that no one seems to remember.
In short, it's just another year at good ol' Shadowcroft, with even more mushroom action, a crocheting minotaur, a surprising amount of twine, and interdimensional conspiracy theories out the wazoo.
But it's mostly twine. Twine all the way down…
From James A. Hunter—bestselling author of Vigil Bound, Rogue Dungeon, Bibliomancer (Completionist Chronicles Expanded Universe), and the LitRPG epic Viridian Gate Online—and Dragon Award Finalist Aaron Michael Ritchey, comes a brand new Dungeon Core novel, like nothing you've ever seen before. Funny, funky, and full of Gamelit goodness, this is one novel you won't want to put down.