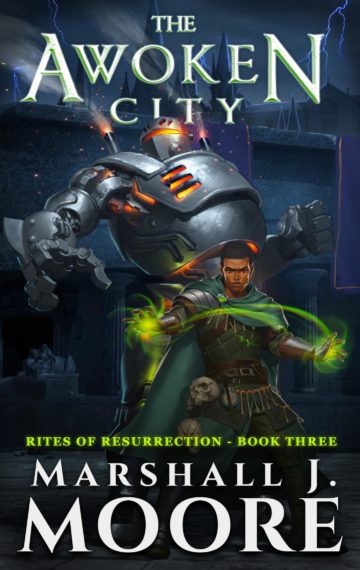 $4.99
Buy Now
Read A Sample
See The Reviews
See The Full Series
Available in:

Kindle, Kindle Unlimited, Print

Pages:

388

Published:

April 18, 2023
The Dead Are Waking Up.
For three hundred years the Republic of Albastine's dead have been resurrected as mindless servants who labor and wage war so that the living may focus on higher matters. Yet these Attendants are no longer the unthinking, unfeeling slaves they once were.
Called from the duties of new parenthood to examine reports of malfunctioning Attendants, necromancer Cassius Calvus discovers that his actions the previous year have inadvertently called the spirits of the dead back into the bodies of the Attendants, resulting in self-aware revenants. Led by the silently charismatic being who calls himself Wraith, these Awoken threaten the Republic's orderly society with their very existence.
But the Awoken are not the only undead in the Pale City who are more than they appear. Throughout Albastine, a sinister force has been quietly gathering power in the shadows, corrupting the Attendants to its own ends. Hounded by an enemy long thought vanquished, Cassius and his allies are drawn into an epic battle for the fate of the Republic—and every soul within, living and dead alike.