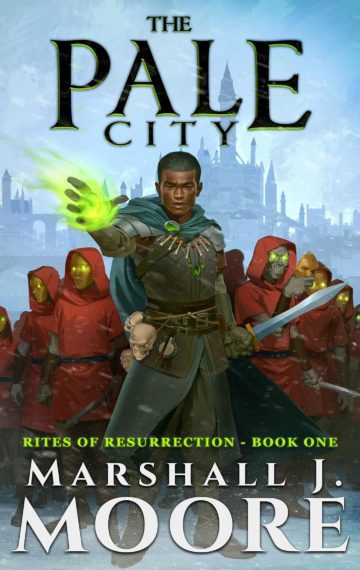 $4.99
Buy Now
Read A Sample
See The Reviews
See The Full Series
Available in:

Kindle, Kindle Unlimited, Print

Pages:

329

Published:

October 11, 2022
Only the dead can save the living.
In Albastine, the dead are made into mindless servants known as Attendants, incapable of harming the living unless commanded to by the soldier-necromancer Legates.
Forced into an early retirement, Legate Gaius Cassius Calvus struggles to find purpose in his civilian life—until he is called upon to examine the apparent suicide of one of Albastine's senators. Cassius's necromantic powers reveal that the man was murdered—and the weapon used to kill him was an Attendant.
Knowing that only another Legate could command an Attendant to kill, Cassius sets out to discover the truth behind the assassination. His investigation leads him through the foggy streets and brooding towers of Albastine as he slowly uncovers a conspiracy that threatens to shake the Pale City to its very foundations. Should he fail, the Republic he has sworn his life—and death—to serve falls with him.
The Pale City combines the rich worldbuilding of Brandon Sanderson's Mistborn novels with the first-person narration and magical mystery of Jim Butcher's The Dresden Files, flavored through with the necromantic horror of Tamsyn Muir's The Locked Tomb series.