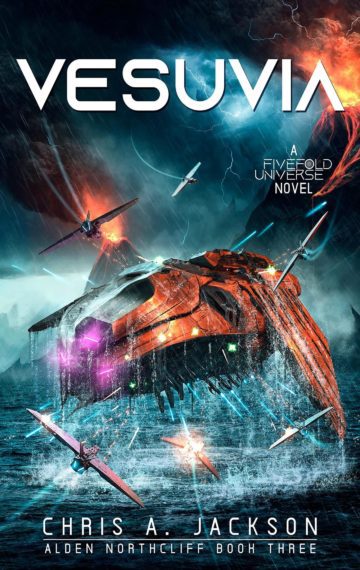 $5.99
Buy Now
Read A Sample
See The Reviews
See The Full Series
Available in:

Kindle, Kindle Unlimited, Print

Pages:

361

Published:

September 20, 2022
The world will end in fire—unless he can stop it.
Recovered from his mission to the gas giant of Stratos, Alden Northcliff thought he'd have time to build his team, research the alien technology they discovered, and renew old acquaintances. But when a fellow immortal beats him to the punch, Alden takes the initiative and redirects his crew to a nearby star cluster, to the planet Vesuvia.
Things are far from straightforward on the war-torn world. The locals are uncooperative, paranoid, and confrontational. No one will admit to knowing about ancient alien races. Even mentions of deep dwellers are shrouded in secrecy and taboo. Frustrated at every turn, Alden will have to trust his crew and risk more than his life to get to the bottom of it. Even then, he may find that some secrets should stay buried.
From Pathfinder and Shadowrun author Chris A. Jackson comes a brand new science fiction adventure series set in the FiveFold Universe! Vesuvia is a tense and suspenseful look into the politics and culture of a volcanic world, technology that is truly alien, and a war that raged across the galaxy before the first human walked the Earth.