Jennifer Brozek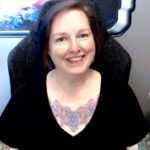 Jennifer Brozek is a multi-talented, award-winning author, editor, and media tie-in writer. She is the author of Never Let Me Sleep and The Last Days of Salton Academy, both of which were nominated for the Bram Stoker Award. Her BattleTech tie-in novel, The Nellus Academy Incident, won a Scribe Award. Her editing work has earned her nominations for the British Fantasy Award, the Bram Stoker Award, and the Hugo Award. She won the Australian Shadows Award for the Grants Pass anthology, co-edited with Amanda Pillar. Jennifer's short form work has appeared in Apex Publications, Uncanny Magazine, and in anthologies set in the worlds of Valdemar, Shadowrun, V-Wars, Masters of Orion, and Predator.
Jennifer has been a freelance author and editor for over fifteen years after leaving a high paying tech job, and she has never been happier. She keeps a tight schedule on her writing and editing projects and somehow manages to find time to volunteer for several professional writing organizations such as SFWA, HWA, and IAMTW. She shares her husband, Jeff, with several cats and often uses him as a sounding board for her story ideas. Visit Jennifer's worlds at jenniferbrozek.com.
"I see story ideas. All the time. They're everywhere. Just walking around like normal ideas. They don't know they're stories."