Nathan Ameye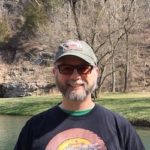 Nathan Ameye grew up fishing, canoeing, hunting, and trekking through the Ozark Mountains. In his backpack, you could always find a bag of polyhedrons and a fantasy or science fiction novel with its tattered cover being desperately held together by yellowed bits of tape.
Eventually, he headed for steeper terrain and spent years living in the Colorado Rockies where he took up rock climbing, fly fishing, and Jeeping. He has far too many hobbies to be really good at any of them, including photography, billiards, wood carving, guitar playing, blacksmithing, and martial arts. Nathan's video game addiction started with Atari consoles and progressed to text-based multiplayer games (MUDs) and then more modern MMORPGs.
He eventually discovered a small but thriving genre of game-centered literature and fascinated by the interweaving of game elements into fiction, wrote his debut novel as a post-apocalyptic LitRPG.