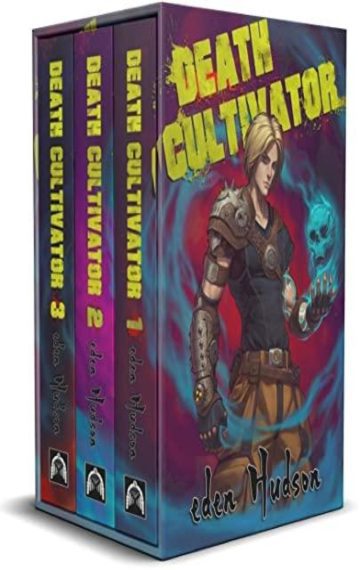 $9.99
Buy Now
Read A Sample
See The Reviews
See The Full Series
Available in:

Kindle, Kindle Unlimited

Pages:

1075

Published:

May 17, 2022
Buy all three novels in the Death Cultivator series and save over 30%!
Fight for your Death.
When regular high schooler Grady Hake is mistakenly taken by the Angel of Death, he thinks his life is over. Then he wakes up on a prison shuttle bound for Van Diemann's Planet, a penal colony run by brutal gangs of criminal cultivators. This is his life now, and if he wants to survive it, he'll have to learn to harness his unique Death Spirit, make friends with alien outcasts, appease a band of hungry ghosts, and fight his way into one of the strongest gangs on the planet.
From eden Hudson, bestselling author of Rogue Dungeon and Path of the Thunderbird comes a brand new series you won't want to put down. Death Cultivator is a sci-fi wuxia for fans of shonen manga and anime such as Hunter x Hunter, One Piece, and Deadman Wonderland.
"Death Cultivator is a fascinating take on cultivation in a sci-fi world. Eden Hudson's writing is always a treat to read." —Tao Wong, Bestselling Author of A Thousand Li and The System Apocalypse

Included in this box set:

Death Cultivator 1
Death Cultivator 2
Death Cultivator 3
The Complete Series