They're A New Kind of Gunslinger
Hey everyone, we hope you're having an awesome day so far and are ready to spend the week glued to your kindles. Out now is War Girls, the fifth installment of the post-apocalyptic sci-fi western series: The Juniper Wars. Haven't started this Dragon Award nominated series yet? Don't worry we've got you covered with a special sale on book one.
This isn't your average dystopian rodeo. Aaron Michael Ritchey has created a post-apocalyptic world bereft of men, electricity, and a leader. War Girls is the fifth book in The Juniper Wars series and the stakes are getting higher, the kills messier, and the enemies deadlier.
If this series is still new to you, what are you waiting for? Pick up book 1 for only 99¢ just for this week, and then get ready to immediately download the rest, because you're not going to want to miss a step in this shoot-'em-up series perfect for fans of The Mandalorian and Firefly.
Want a chance to win book 5 for free? Just click the giveaway link HERE to enter. Good luck and happy reading.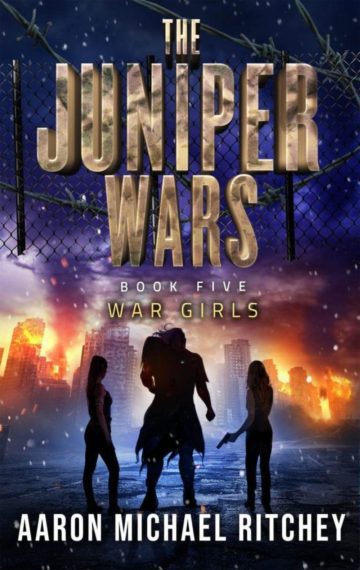 Ain't no cold like the cold of war
By 2058, both the Sino-American War and the Sterility Epidemic have decimated the male population. Electricity does not function in five western states. Collectively, they are known as the Juniper.
It is the most dangerous place on Earth.
Cavatica Weller has lost everything. Her home. Her family. Her courage. She's back in the World, in Kansas, where she has electricity, friends, a life, only being alive feels like being dead. She made a deal with the devil and she needs out. Her only hope is her wit, her rage, and a host of new allies.
Once more, she must return to the Juniper Wars, in search of an ex-president and the location of the secret ARK facility. But this time, she's not herself, and the woman she is becoming might kill everyone she's ever loved.
See The Book
---